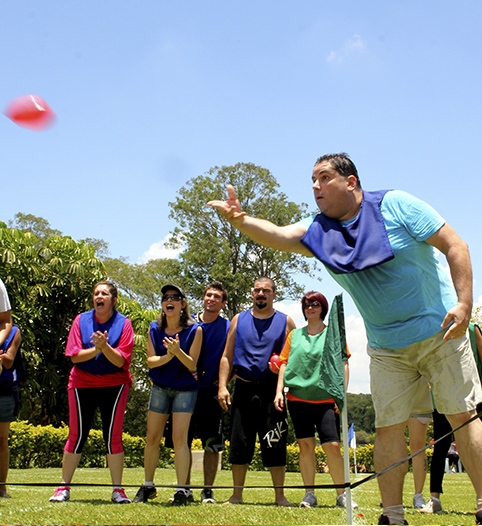 Integration events
Our camp is a space that can transform departments into teams, inspiring engagement outside the professional environment. Whether at events to reinforce the organization's mission and values, celebrate results and achievements, or even celebrate special dates for the company.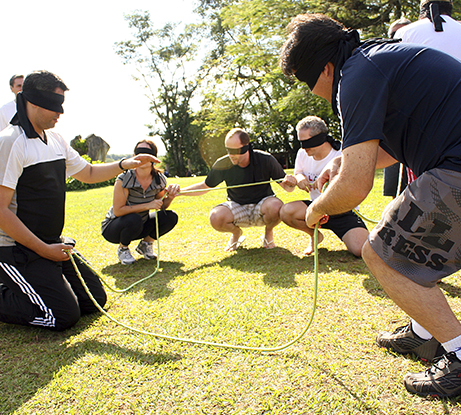 Training
Bringing employees together from time to time to update concepts and improve performance is essential for the entire team. These are moments when knowledge is shared, and relationships are strengthened.
Events for employees' children
RepLago is ready and waiting for those special dates when the VIP guests are employees' children. Our specialty is to welcome children and teenagers, offering the most diverse leisure activities with all possible care taken.
Roomy, well-ventilated cottages with heating and air conditioning, and showers with natural gas or solar heated water. A leisure center with accessibility, gym, sports fields and courts, swimming pool, music studio, art studio, game room, organic vegetable garden, and a party room integrated with Nature.
5 meals per day with alternatives for those who have dietary restrictions. A balanced menu that includes fresh ingredients from our organic vegetable garden, carefully prepared by our chef and nutritionist.
Our team of counselors has the skill, experience, and sensitivity to handle large groups of kids. A multidisciplinary team of professionals who also undergoes constant training on safeguarding, first aid, conflict mediation, non-violent communications and much more.
We are located in the rural zone of Leme, 186km from the city of São Paulo, via the Bandeirantes Highway. The region is favored with a pleasant, sunny climate, allowing outdoor activities all year round, even in winter.
We are located on an 80-hectare farm with a nice garden, trees, and animals everywhere and a lake located in the center of the property to be enjoyed and admired. At RepLago, contact with Nature is constant, and so are the discoveries.
All activities take place within the confines of the camp, which has 24-hour Security. Our monitors are trained in emergency procedures, and when participating in activities, the use of safety equipment is mandatory. We also have a very well-equipped.
Vitor – BDO Auditores
O lugar é excelente, com diversão garantida para todas as idades. A estrutura é ótima, não apenas para receber crianças e adolescentes, mas para receber eventos de empresas que buscam algo realmente diferente, que permita contar com as tradicionais palestras e reuniões, além das atividades de integração e motivação de equipes. As refeições merecem um comentário à parte: tudo preparado com muito capricho e um tempero que nos faz lembrar daquela comidinha caseira da vovó. A atenção e o carinho do time Replago é sem igual. Recomendo sem pestanejar!
Rafa
Hanks, Kiko e eu levamos anualmente uma grande turma para o RepLago. Todos dessa turma já conhecem e são clientes fiéis do acampamento. Apesar da fidelidade já conquistada, o Rep sempre consegue se superar na oganização e atendimento. Parece que nossa temporada fica melhor a cada ano que passa.